Helping to make food and life healthier
Products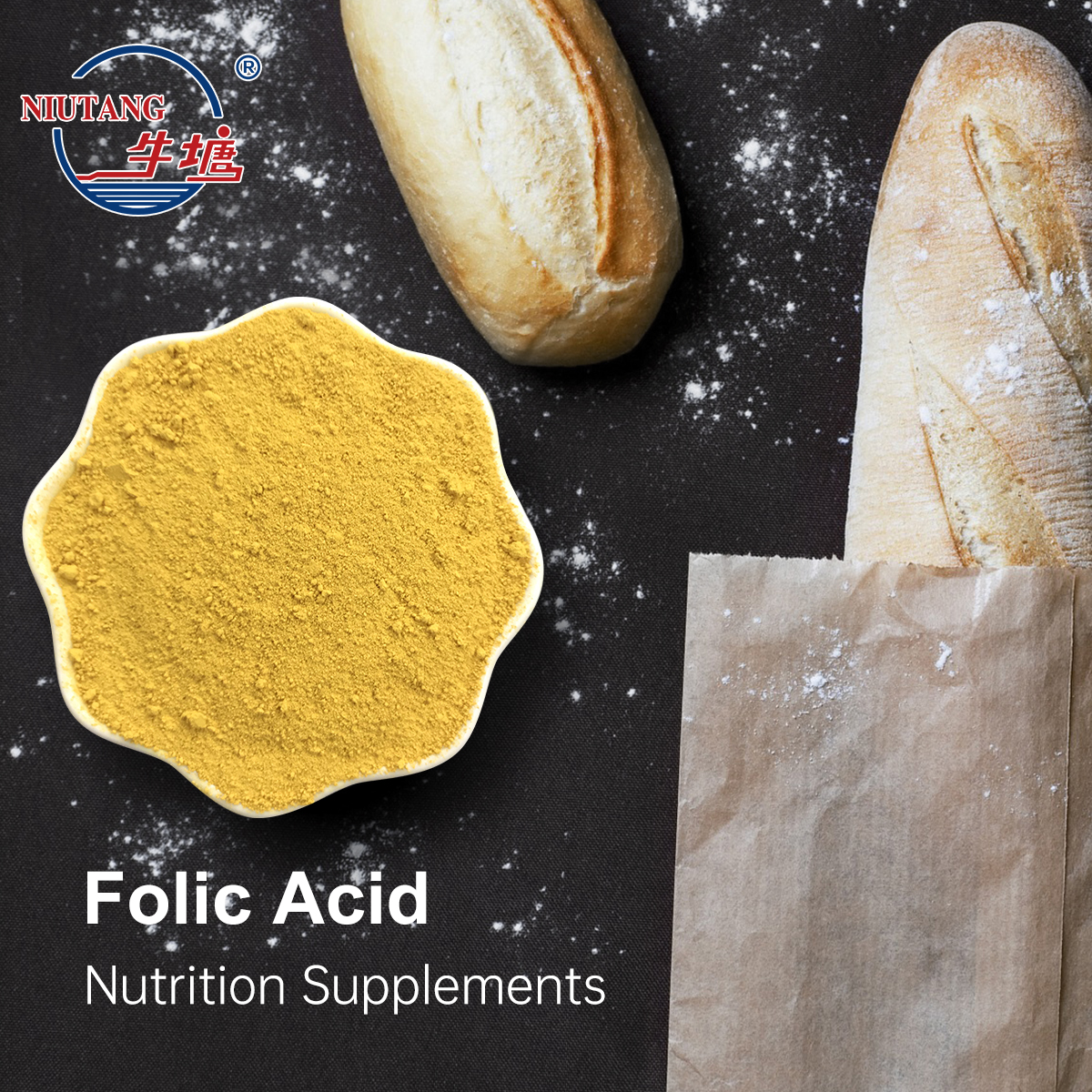 Folic Acid
Folic acid is a water-soluble vitamin which is also known as vitamin B9 and it is normally found in foods. Folic acid helps the body produce and maintain new cells, it also benefits heart health and could help reduce the risk of heart disease. Folic acid can be used as nutritional supplement in food beverage, pharmaceutical, health & personal care products, agriculture, animal feed and nutrition.
NT is the first folic acid/Vitamin B9 manufacturer in China, and has more than 30years manufacturing experience

High content, good stability, low impurity

various specifications: food grade, feed grade, and pharmaceutical grade

Conforming to standards of BP2002, USP23, GB/T7302-2008, FCC10, USP40,GB15570-2010,EP9.3
Chemical Name:
N4-(2-amino-4-oxopteridin-6-yl) methylaminobenzoyl-L-glutamic acid

Molecular Formula:

C19H19N7O6

Molecular Weight:

441.40

Product use:

According to "GB 14880", it can be used to modulate milk powder, rice, wheat flour, instant grains, baked goods, fruit and vegetable juices, solid beverages, jellies.

Description:

Folic Acid is a valuable member of the B vitamin family widely used in feed, food and nutraceutical applications. It is found naturally in many foods including dark leafy vegetables and a variety of fruits. Many foods including fortified breakfast cereals contain Folic Acid for its health benefits. A yellow or orange yellow crystalline powder, odorless and tasteless, insoluble in water, ethanol, acetone, chloroform and ether, but freely soluble in dilute solutions of alkali hydroxides or carbonates.

Specification:

Purity (on dry basis)

96.0% ~ 102%

Loss on Drying

5.0% ~ 8.5%

Residue on Ignition

≤ 0.2%

Free Amines

Meets the requirements

Solubility

Meets the requirements

Niutang Folic Acid meets all the requirements of the current FCC.
Solution Provider for Health, Nutrition and Food Safety