Helping to make food and life healthier
Products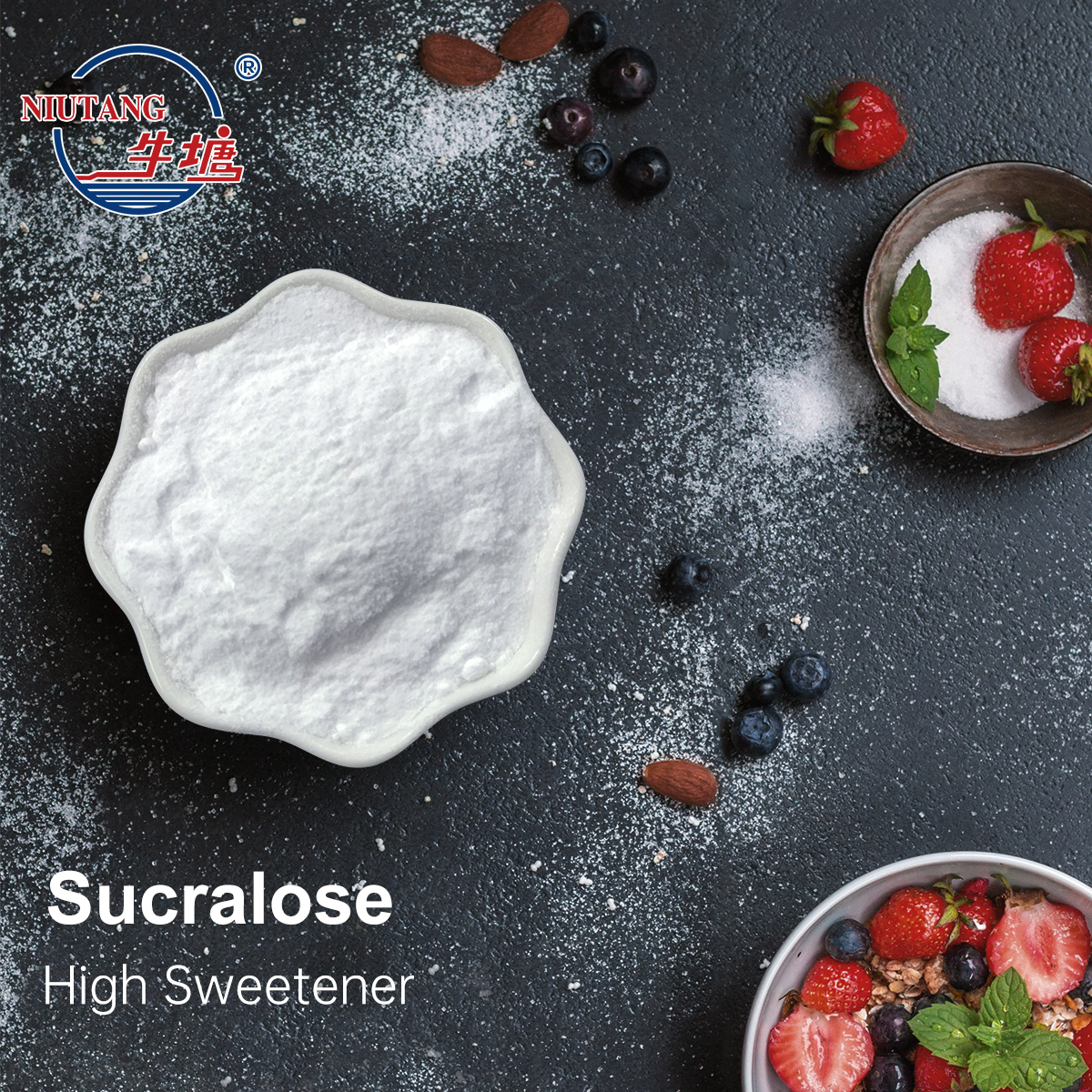 Sucralose
Sucralose is a non-caloric sweetener and sugar substitute. It is produced by chlorination of sucrose but is about 600 times sweeter than sucrose.
Sucralose production began in 2004

600 times sweeter than sucrose

Cold drying technology, good stability, excellent solubility

High thermostability and good resistance to acid and alkali

Conforming to standards of GB25531, FCC, USP, EP, FAO/WHO

Safe for everyone, including diabetics, pregnant women and children

Can be found in over 25000 different types of food and beverages
Chemical Name:
4,1',6'-Trichloro-4,1',6'-Trideoxygalactose

Molecular Formula:

C12H19CI3O8

Molecular Weight:

397.64

Specification:

powder, granule, fine powder, superfine powder

Product use:

Milk and dairy products, Fat products, Frozen beverages, Canned fruits and vegetables, Preserved fruits, roasted nuts and seeds, Cocoa products, Candy, Grain products, Baked food, Aquatic products, Condiments, Beverages, Jelly.

Description:

Sucralose is a non-caloric, high-intensity sweetener that is 600 times sweeter than sucrose. Sucralose retains its sweetness over a wide range of temperatures and storage conditions in variety of applications. Because of its extended shelf-life stability, food manufacturers use Sucralose to make great tasting new categories of foods and beverages, such as canned fruit, low-calorie fruit drinks, baked goods, sauces and syrups. Sucralose also can be used as a sweetener in nutritional supplements, pharmaceuticals, vitamins, and mineral supplements.

Our liquid Sucralose is an intensely sweet, clear, colorless liquid made with FCC grade Niutang Sucralose powder. It functions as a nonnutritive sweetener / flavor enhancer. Liquid Sucralose can only be used in applications where the product or manufactured goods has a pH of 7.0 or lower. For baked goods the pH cannot be higher than 8.0.

Specification:

Sucralose Powder

Specific Rotation[α]

+84° ~ +87.5°

Residue on Ignition (sulfate)

≤ 0.7%

Heavy Metals (as Pb)

≤ 10mg/kg

Sucralose Liquid

Appearance

Clear, Colorless Liquid

Potassium Sorbate

0.10% – 0.12% w/w

Sodium Benzoate

0.10% - 0.12% w/w

Arsenic (as As)

0.5 ppm MAX

Aerobic Plate Count

≤ 100 CFU / G

Staphylococcus aureus

≤ 10 CFU / G

Niutang Sucralose meets all the requirements of the current FCC, USP/NF, JECFA, EP and JP.
Solution Provider for Health, Nutrition and Food Safety